GAZE
Stories of Personal Transformation
About the BLOG
When I go to parties and people ask me what I do, I tell them I'm a mirror gazing expert.
Some turn away believing they've spotted a narcissist enabler. Others are intrigued, and sometimes even a bit terrified at the thought of looking at themselves. Mirrors can evoke some strong feelings in us. But they can also be incredibly helpful in ways you might not have imagined.
It's through the mirror we come face to face with ourselves. Being reflected is one of the most important and powerful experiences we can have as humans. But as we spend more time alone gazing at our devices, we miss the human reflection that is essential for our well-being, and our social and emotional development. Through the mirror we can come face to face with ourselves anytime.
The mirror was a favorite childhood toy, but as I grew older it became a vehicle for self-criticism and scrutiny of my appearance. Then, quite by accident, I discovered the mirror as a transformative tool for meditation. Based on my work as a psychologist, researcher and years of meditation practice, I developed a mirror-based meditation program and taught hundreds of people to see beyond their surface appearance, release their self-criticisms, and develop kinder self-awareness. It's been fascinating to discover how just a simple mirror can be the catalyst for so many different kinds of realizations for so many different people.
GAZE: Stories of Personal Transformation with Mirror Meditation is a weekly blog series of amazing tales of what happens when people are brave enough to face themselves in the mirror. The names of the protagonists have been changed, but perhaps you might see yourself reflected in these stories of revelation. So I invite you to stop for a moment and gaze…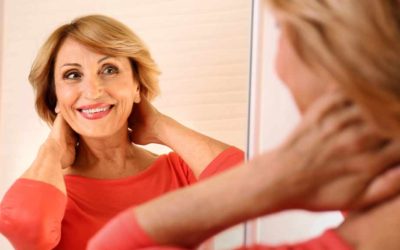 Last week we met Katrina and learned how she used mirror meditation to disrupt her selfie addiction. Pat had a different kind of self-image problem. As a therapist, she felt comfortable in the role of nurturer and support person. Pat was quite modest and even...